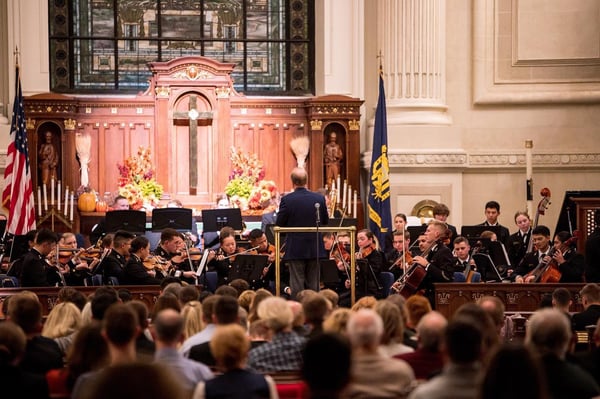 Live music provides an energy to performances that recorded tracks are unable to match. And this is precisely what makes a recital such a special event. During a recital, all attention is devoted to the music and the musician. On January 31, musicians and their instruments will take their turn as the stars of the show during the Midshipmen Classical Recital.
The Midshipmen Classical Recital is an opportunity to showcase the incredible instrumental talents of the Brigade, including some of which are vocal. These musicians often began training with intense discipline in early childhood. The level of discipline required for mastery undoubtedly aids their success at USNA, as well as allows the opportunity to continue performing as Midshipmen.
All interested Midshipmen are also welcome to join the Midshipmen Orchestra. While there are no restrictions regarding the instrument, as there is an opportunity for all talents, auditions are required. In addition to the orchestra, there are smaller ensembles and soloists who perform throughout the year.
Two of the Musical Activities Department's ensembles are the String Quartet and the Midshipmen Chamber Group. The String Quartet is well-known for its catalog of works from famous composers, including Mozart, Tchaikovsky, Beethoven, and Brahms, among others. Its sophisticated sounds range from exhilarating classics to quiet ballads. The larger string ensemble is the Midshipmen Chamber Group. Composed entirely of stringed instruments, many members of this ensemble have spent years honing their skills.
Monte Maxwell, Director of the Midshipmen Orchestra, is also the Chapel Organist and Director of Chapel Music. After receiving his undergraduate degree from Texas Christian University, he received his graduate degree from the Juilliard School in New York. Additional music study includes the prestigious Curtis Institute of Music in Philadelphia, where Mr. Maxwell earned the conservatory's most distinguished degree in Organ Performance, the Artist Diploma. Mr. Maxwell has been with the Naval Academy since 1997.
During the course of his career, Mr. Maxwell has performed in a variety of famed concert halls, churches, and cathedrals, such as New York's Lincoln Center, St. Patrick's Cathedral, the Kennedy Center, and St. Peter's Basilica in Rome. One of the musical highlights of the year is when Mr. Maxwell performs on the Chapel organ during one of the most popular events of the year, the All Saints' Day Concert.
This year's Midshipmen Classical Recital will be held on Friday, January 31st in the USNA Main Chapel. This event will feature a number of solo performances from talented instrumentalists with extensive recital experience, and on the concert stage.
The public is welcome to attend the Midshipmen Classical Recital performed by the Midshipmen Orchestra. The recital begins at 7:00 pm and doors open at 6:30 pm. Tickets are not sold online and may be purchased at the door on the evening of the performance.