The development of Midshipmen isn't restricted to formal educational settings. Extracurricular activities and sports clubs play a significant role in building the qualities necessary to become a well-rounded naval officer. The Naval Academy Business Services Division (NABSD) provides support to the Brigade of Midshipmen through sales at Navyonline.
All proceeds from Navyonline are administered by the Midshipmen Welfare Fund (MWF) to fund a wide variety of USNA extracurricular activities. More than 100 clubs, teams, societies, groups, and other activities receive funding through this program. Below are several examples of the groups Navyonline funding supports.
Funding provided to the USNA Music Department assists with events such as the Halloween Concert, as well as multiple glee clubs and choirs. Its ensemble groups rely on the funding they receive to participate in a variety of activities.
The USNA Drum and Bugle Corps dates back to 1914, when a group of 17 Midshipmen performed during a baseball game against St. John's College. Since that first appearance, the Drum and Bugle Corps has grown to an ensemble of more than 100. Also known as the Hell Cats, they march and play with military precision at football games, pep rallies, and dress parades. The Drum and Bugle Corps performs in more than 100 events each year.
The Pipes and Drums band at the USNA carries on centuries of military tradition with its bagpipers, Highland drummers, and Highland dancers. Pipes and Drums performs at a variety of USNA functions and travels for performances and competitions throughout the year.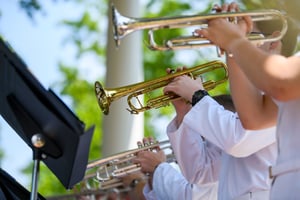 Trident Brass is an ensemble of musicians and vocalists performing a variety of music, ranging from big band and jazz to rock. Trident Brass can be heard performing at various USNA functions, including dances, Parents' Weekends, and Commissioning Week, as well as their own concerts.
Outside of the music department, Navyonline supports yearbook efforts, also known as the Lucky Bag, a USNA tradition going back to 1894. Throughout the year, fellow Midshipmen work to document the year's events through photography, then organize and edit those photos into a treasured document of Midshipmen experience.
Funding from Navyonline helps to further Midshipmen academic development as well. Those with interests in science, technology, engineering, and mathematics can join one of the many societies and clubs falling into the category of M-STEM. M-STEM groups, such as the Oceanography Club, the Society of American Military Engineers, and the engineering honor society, Tau Beta Pi, all receive support from Navyonline proceeds.
Midshipmen also receive realistic shipboard-based seafaring experience when training with the Yard Patrol Craft of the YP Squadron. The funding Navyonline provides to the YP Squadron efforts assists with the initial development of skills required for future Officer of the Deck qualifications and Command at Sea.
Athletics is another area where Navyonline funds are distributed in support of Midshipmen. A variety of intramural and club sports, such as cycling, lacrosse, and triathlon, are available for Midshipmen and require support in order to function. This year, the USNA triathlon teams traveled to compete in the 2019 Collegiate Nationals in Tempe, AZ. The USNA was well-represented in the competition and came away with two 5th place finishes.
You can show your support and make a difference in the lives and experiences of USNA Midshipmen when you shop at Navyonline. Every cent of the proceeds goes to support the continued existence and needs of these extracurricular activities and clubs.